Welcome to Kanji alive, a free web application designed to help Japanese language students of all levels learn to read and write kanji.
Kanji alive should not be used a dictionary. It is a resource for learning kanji, dedicated to helping you open the door to the fascinating characters that form the written Japanese language. All of the content in Kanji alive was reviewed and arranged with painstaking attention to detail by experienced Japanese instructors in order to help you best study, practice and retain kanji.
Feature Highlights
Each kanji in Kanji alive is presented together with as many as twelve carefully selected example words, including audio clips of their pronunciations by native speakers, male and female. To help you write kanji correctly, we have chosen to hand draw all kanji in the style experienced in common, daily use — with a pen, not a brush. The model animations can be played stroke by stroke via their kanji stroke order diagrams. Accompanying each kanji are vivid mnemonic hints and simple animations to illustrate the historical derivations of their radicals. And for the sake of beginning students who have not yet learned to search for kanji by radical or readings, we offer the option to search by textbook and chapter. Please consult the section below for a detailed list of all of Kanji alive's features.
Before embarking on your study of kanji we encourage you to review  Introduction to Kanji (PDF) and the 214 traditional kanji radicals and their meanings. If needed, a User Guide to Kanji alive is available in the "Resources" section of our website as well as a document intended primarily for Japanese language instructors, explaining our pedagogic principles.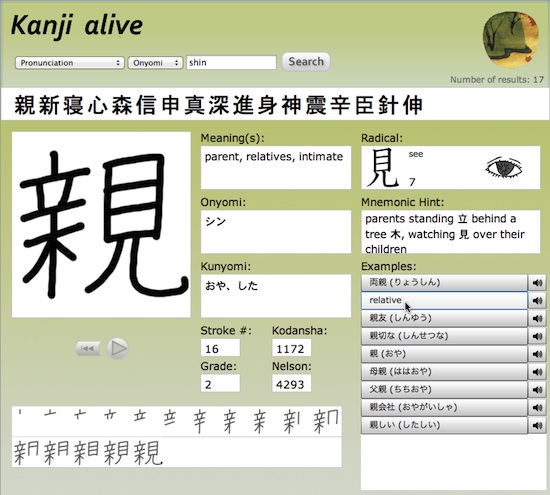 Detailed Feature List
search for kanji using a number of different criteria: onyomi, kunyomi, English kanji meaning(s), radical name, radical stroke number, radical English meaning(s) and kanji stroke number.
search for kanji by textbook chapter/lesson number: This allows you to view all the
kanji you need to study in the chapter or lesson in which these are introduced.
clearly view an actual character (not a font) being drawn stroke by stroke by a skilled Japanese writer in addition to a very clear calligraphic textbook font (kyoukashotai). You can play the model animation from beginning to end or stroke by stroke via its kanji stroke order diagram
listen to audio clips of example words to model the correct onyomi and kunyomi pronunciations (up to 12 examples per kanji by fluent male and female speakers)
Each kanji character in the application is grouped together with key attributes:
its English core meaning(s)
the number of strokes that make up the kanji
the stroke order that make up the kanji (stroke-by-stroke breakdowns)
its Onyomi (Chinese reading) and Kunyomi (Japanese reading)
contextual examples where the kanji is used, along with their English meanings
its Japanese and English radical meaning, and radical stroke number
In addition, you can:
Finally, in order to provide you with practical information needed to learn and use kanji effectively, we have provided two important resources which cover the history of kanji, stroke order basics, and kanji radicals. These are the Introduction to Kanji (PDF) and the 214 traditional kanji radicals and their meanings. We strongly encourage everyone who has just begun to study kanji to review these documents carefully before using Kanji alive in earnest.
Please note
Kanji alive has a useful search function to help students find kanji by their core meaning(s) in English but the search function does not allow a user to search for compound words, such as 電話 (denwa, telephone). A search for English meaning(s) will only yield the individual kanji with that meaning. It is not a dictionary.
Kanji alive includes all Kyouiku Kanji which are taught in Japanese elementary schools and all kanji in Level 2 of the Japanese Language Proficiency Test (1235 kanji in all).
Kanji alive presents kanji in two different styles to help distinguish different stroke endings:
Calligraphic style

Written with a pen

The calligraphic kyokashotai font shows the clearest distinction among the three main stroke endings: the stop, the sweep and the hook (please consult Introduction to Kanji for an explanation of the three stroke types).
 The pen-written style (displayed in the animated clip) shows how the three endings appear in everyday handwriting. This style is more useful as a model for students' own writing.
The mnemonic hints are not based on etymology. They were revised and developed by Harumi Hibino Lory and Camelia Nakagawara especially for Kanji alive, based on 2001 Kanji by Joseph R. De Roo, Bonjinsha, 1980 (currently out of print). All information is used with permission. The meanings of radicals are often broadened, and the radicals are sometimes taken apart to create mnemonic hints.
Example words where the kanji are used are listed according to the listed order of the onyomi and kunyomi pronunciations, not according to their order of importance.
Kanji alive can be used as a supplementary teaching tool in a variety of academic settings. It can easily be modified to support additional textbooks or lesson plans so that students at institutions can quickly search for assigned kanji by entering a chapter or lesson number. Please see the Notes for Instructors page for more details.
Please view our News page or follow us on Twitter to learn more about our latest updates.